At Kalas, we understand that choosing a Power Cable for your heavy-duty applications is a serious decision. Whether you are powering generators for disaster relief, equipment for mining, large outdoor productions, active facilities, or other high-stakes situations that require consistent reliable power, there's a lot on the line if your power fails. Your power cables and systems need to be able to withstand environmental factors and extreme use. Before selecting the type or brand of cable you choose to power your end-use, you need to find a cable you can trust with all you put it through.
That's where Kalas GenFlex™ Type W Power Cable comes in. Let us explain why we believe our Type W Cable is the brand you want when making your selection for purchase.
What is Type W Power Cable?
Before we get too deep into why you would choose Kalas' Type W Power Cable over the rest, we don't want to assume you know the ins and outs of Type W Power Cable. Type W Power Cable is basically a heavy-duty cable. What makes it different than other Industrial Power Cables and Cords is its ability to power extreme uses. Type W Power Cable generally consists of bare copper conductor core insulated with Ethylene Propylene (EP) and jacketed with Chlorinated Polyethylene (CPE) which results in a cable that is flexible, durable and can maintain it's properties in extreme temps, weather and compression. Perhaps this isn't new information and you already are familiar with Type W Power Cable and what it's generally used for. If that's the case, all we need to share is why would you choose Kalas' GenFlex™ Type W Power Cable before it's the competition? We're glad you asked.
Why Choose Kalas GenFlex™ Type W Power Cable?
When it comes to Kalas' Type W Power Cable, we give you not only the basics of reliable construction but peace of mind as you can trust you're receiving a quality that outlasts the competition.
Complete Quality Control
First, we make every one of our wires & cables from scratch in-house. That means from the very start we get to control the quality of your cable and can vouch for each inch of it. We order our own copper rod and draw it to the precise stranding your cable requires all while assuring it to be defect-free and as conductive as possible. Next we go through extensive quality testing before selecting insulation and jacketing suppliers to assure our customers will receive a product that lives up to and exceeds expectations with which it's purchased.
Tested and Proven for Durability
Before rolling out any product, we put it through extreme testing. Our GenFlex™ Type W Power Cable has been tested and proven to meet the requirements of UL Subject 1650; CSA PPC 22.2 – 96 and the MSHA Flame Test. It's tested and proven to be rated for use in accordance with National Electrical Code (NEC) article 400 and NFPA 70 such as used in generator leads, battery leads or motor leads, heavy-duty, or temporary power supplies and light to medium duty mining applications. When you buy Kalas' GenFlex™ Type W Power Cable, you also buy assurance that your cable will hold up to and resist abrasion, sunlight, chemicals, oil, and water offering you superior cable life in the harshest environments. Because of the quality of our Type W cable, it's also rated to temperatures of -40°C (-40°F) to 90°C (194°F wet or dry), so even in extreme temperatures, you'll be able to rely on our Type W remaining consistent and flexible to move with ease without compromising conductivity.
Trusted history
At Kalas, we come backed by a 60+ year history in cable manufacturing. It's not something we rest our laurels on either. It's a 6+ decade history of excellence, continuous improvement, and reliable partnerships with each and every customer. When you buy Kalas, it is our commitment that you know you also buy quality and expertise. Our engineers and production associates are highly trained and backed by vetted experience which directly goes into the quality of the cable you buy. Quality and expertise matter – especially when your need to rely on power in critical situations as with Type W Power Cable.
Customization & Options
One of the huge perks of buying from Kalas is the number of capabilities you can choose because we are a fully integrated manufacturer with facilities that can do it all. With GenFlex™ Type W Power Cable, you have the choice of ordering 4/0 – #8 gauge which comes sequentially printed with our PermaPrint™ indent print that remains visible & lasts a lifetime even with extreme use. Our GenFlex™ Type W Cable we stock 4/0, 2/0, 1/0, and #2 on 2,000' put-ups making your order in that quantity ready to ship out the door fast while we also offer custom lengths to suit your exact needs. Simply as for made to order when you contact us. 
Conclusion
If you're still reading, that means you're probably in the market for Type W Power Cable or will be someday and are taking your decision of where to purchase seriously. We fully respect and value that, believing reliable, quality power should be what everyone receives when they purchase power cable. Sadly, we know that's not always the case. So we are here to assure you that it is possible to buy a Type W Power Cable that is reliable, durable, and a cut above the rest in purely sending power where you need it to go. If you have any questions at all about GenFlex™ Type W Power Cable please reach out so one of our kind informed customer support team members can ease your mind and help you more fully understand how our cable can support your work. If you're ready to begin your journey of buying the highest quality cable while receiving excellent service, you can fill out our request a quote form today.  
Visit our GenFlex™ Type W Power Cable web page to read deeper into features and specifications.  
For related products and information you can visit:
We look forward to serving you and providing you a better cable for your heavy-duty power needs! Be prepared for the next storm, gig, power outrage, mining job, and more by starting your ordering or inquiry today.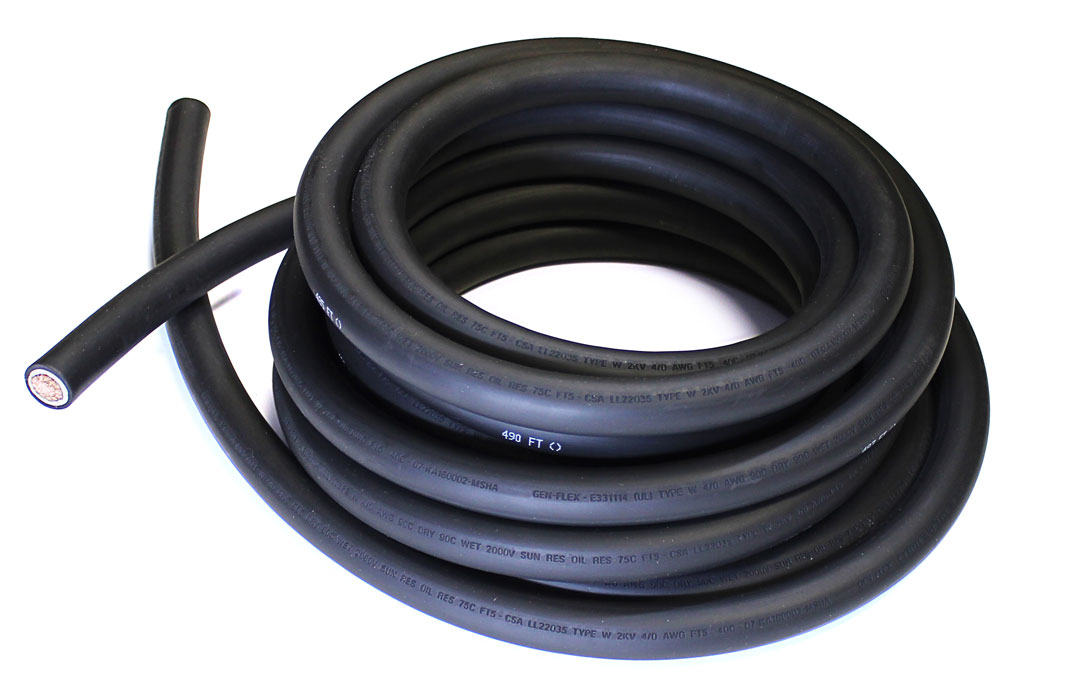 GenFlex™ Type W Power Cable comes standard with our PermaPrint™ indent print that lasts a lifetime even in extreme use.