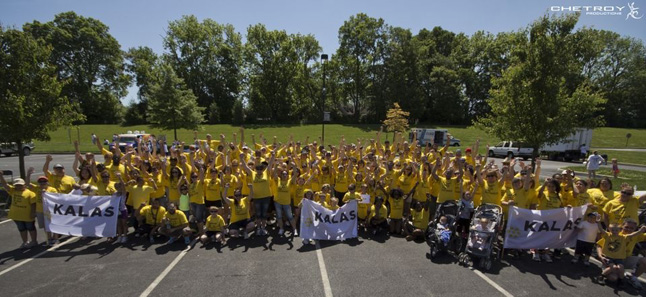 Congratulations to the Kalas "Yellow Army" for its incredible showing at the first annual Lancaster JDRF Walk to Cure Diabetes. More than 160 Kalas associates and their family & friends showed up for the one mile walk, and raised a total of more than $25,000!
Kalas President and CEO, Jack Witwer served as the event corporate chair and was instrumental in generating support of the many vendors, suppliers and professional partners who sponsored Kalas at the walk. "I am humbled and amazed at the support we received by both our professional contacts, and certainly by our associates. JDRF is a great organization, committed not only to the research to put an end to Type 1 diabetes, but also to running a lean cost structure to ensure the dollars raised on their behalf go directly to finding a cure. And seeing all of those yellow shirts in the crowd exceeded my every expectation. At Kalas we talk about living our values and giving back to our communities, and events like this demonstrate we walk the talk."
Close to 600 people participated in the walk, raising $75,000 in total.